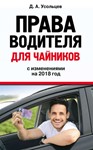 In this book the author gives answers to all the most urgent questions of novice drivers. How quickly to understand all the changes in traffic rules and fines? How, building on the knowledge of laws and traffic rules, to build a dialogue with a police officer? How to act if you are in an accident? How and for what it is possible to lose a driving license?

In a convenient form with comments and color illustrations, the author gives practical advice on communication with the traffic police.

The book is made taking into account all the changes in traffic rules and legislation that regulates fines and penalties for drivers.

Volume: 260 pages.The format of the book is fb2.
No feedback yet