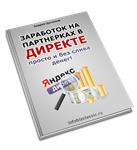 It is a complete step by step course on creating your poison to the sale of goods.


From this course you´ll learn all about how to configure the correct and effective advertising campaigns in Yandex Direct detailed analysis on the example of two campaigns, each of which brings 300 US dollars net income.

No "some water", which suffers most courses Directives - specific examples of specific affiliate.


But that´s not all! To rate included a special bonus that will help you in just 2 minutes to increase the conversion of your ads in the 1.5 - 2 times!
Who will benefit course Yandex Direct?


Owners of large and small companies that get buyers from contextual advertising.


In Infobusiness - a set of subscribers and selling information products.

This knowledge will help you to earn the right to affiliate, and it would be really cool money!


For Professionals seo companies that provide services to configure and monitor campaigns directives.

It is a practical step by step guide will be a handbook for those who are just beginning to master the tool of contextual advertising.


It chips of this course will make you a specialist in conducting advertising campaigns. Having learned on its own, you will be able to provide service to customers campaigning.


12.01.2018 20:45:22
То, что надо!