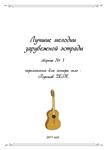 The collection includes the following foreign pop hits:

1.CAN'T HELP FALLING IN LOVE (from the repertoire of E.Presli)

2.MY WAY (from the repertoire and E.Presli F.Sinatry)

3.KOLYBELNAYA strange bird (Dzh.Shiring)

4.LONER (Gary Moore)

5.ABRAZAME (from the repertoire of H.Iglesiasa)

6.FEELING '(Morris Albert)


Detailed tabs and sheet music.


File pdf, notes duplicated tabulaturoy.Est watermark protection and file changes. If your reader beginning "to swear" (do not open the file), or incorrectly printed (the watermark on top of the music) - use the Foxit Phantom - I have a problem with the file takoy.Budut - contact me, I will help 100%

The request not to spread the acquired notes you free access. Enjoy parse successful game!
No feedback yet